Australian Complex Social Service Delivery
Australian Complex Social Service Delivery
Yahweh van Ram, Sri
Singapore University of Social Sciences, Maximum Wellness Centre
Author Note
Protocol (Australia Social Services)
Yahweh van Ram, Sri
Abstract
This protocol examines how large multi-sector community service organisations (CSOs) segments their services using the strategy of Recency, Frequency, and Monetary value (RMF) analysis of service consumption. According to the Victorian Council of Social Service (2018), "Registered charities alone contribute more than $13 billion a year", adding to Australia's economy. In 2017, a critical question was asked, to responding organisations, "What category of services, best captures their main service type", a cluster total of 11 primary CSO sector responded to a study by Cortis and Blaxland (2017), research commissioned by the Council of Social Service of NSW (NCOSS). In September 2020, the website, "publicguardian.justice.nsw.gov.au" lists 19 CSO sector, therefore suggests a growing and potentially thriving community services sector. This protocol is a mixed-method sequential exploratory design that uses CSOs as case organisations, seeking profitable growth in the area of community-based services to increase in human service delivery and social change investment.

Keywords: Australia Social Services, RFM, Service Delivery, Social Change
Australian Complex Social Service Delivery
The transactional history of services as seen with recency, frequency and monetary value data are also deemed as trait secrets, and from a pragmatics view, RMF analysis may not be viable for CSOs to consent to disclose their data for research purposes readily. As an alternative, CSOs may consent to research surveys shared to their database for data analysis aimed at optimising their services. RMF analysis is a time-tested strategy that is useful in reporting customer purchasing patterns (Kahan, 1998), reports historically have demonstrated that it is a valuable matrix for Customer Relationship Management (CRM) to identify useful customers (Wang, 2010). It also enables business profitability (Baecke & Van den Poel, 2009). Additionally, Multivariate analysis follow the RMF analysis CSOs because research would highly benefit CSO sectors and participating CSOs to streamline performance, the research outcomes will be made available to participating organisations. A population study of participants who are patrons of services offered by the CSOs highlights the recency, frequency, and monetary value data with actual receipts of service purchases.
Methods
The data collection method shall be an online form with a mix of open and close-ended questions will supplement the mixed methodology having both quantitative and qualitative aspects to analyse the data, grounded in theory. The survey form will also enable receipts to be attached to authenticate the reliability of purchases. As seen in figure 1, the map of Australia's charitable operations, including government supported and autonomous CSOs. There is also past and on-going research in this area, therefore, is this a viable approach as seen with previous authors including Government of Australia- Australian Charities Report, Victorian Council of Social Service and NSW Community Services Sector with Cortis and Blaxland. For ethics purposes due to covid19, reduce in-person contact is vital to reduce and prevent the spread of the virus.
Figure 1: LOCATION AUSTRALIAN CHARITIES MAP, 2018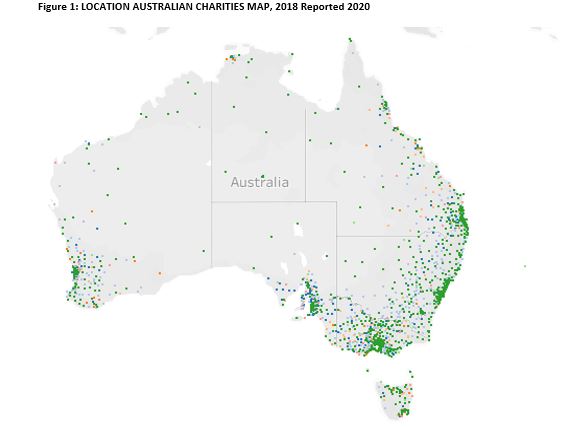 Reported 2020 Proposition The protocol is a mixed-method sequential exploratory design that uses CSOs as case organisations, seeking growth in the area of services. The purpose is to observe what is the present performance indicators, and in-principle beneficial, therefore, actionable incentives for CSOs to function and the potential to streamline strategies from analysis to describe the modalities from the matrix to strengthen growth. Therefore, the aim is to determine a viable economic strategy for CSOs to advance their causes. The flowchart demonstrates a sustainability model to which forms the strategy of economic sustainability set as the objective.
Figure 2: FLOWCHART

The originality of the protocol is threefold:
A Constructive RMF analysis to determine CSOs performance (Pre-analysis phase)

Perform a Multivariate analysis to observe the co-linearity of determinants

Determine a Matrix of the Customer Segments, Activity and Define Customer Motivation (Post-analysis phase)
The threefold approach aims to highlight the current services that provide data to the Constructive RMF analysis, In pre-analysis phase. The RMF analysis explains the behaviours and drivers oriented to CSOs primary service leading to service retention. Secondly, a multivariate analysis determines co-linearity that harnesses the similarities that exemplify traditional service sectors against growth sectors; therefore, the data would demonstrate the trend of service sector performance. Lastly, the post-analysis phase shall be a coupling of the pre-phase to evaluate and recommend growth action for service sectors. The literature on both Management Development and Governance will be valuable to explain the results of the analysis and social impact as a distinctive pragmatics approach to increase in human service delivery and social change investment.
The research grant will provide the Principal investigator funding towards salary, research assistants, devices such as pulse oximeter, tokens voucher to participants, access to journal databases, fieldwork, and workshops.

References

Australian Government (2020). Australian Charities Report 2018. Retrieved September 11, 2020, from https://www.acnc.gov.au/tools/reports/australian-charities-report-2018
Baecke P, Van den Poel D (2009). Data augmentation by predicting pleasure using commercially available external data. J. Intel. Info. Syst. (DOI: 10.1007/s10844-009-0111-x).
Cortis, N., & Blaxland, M. (2017). Workforce Issues in the NSW Community Services Sector
(SPRC Report 07/17). Sydney: Social Policy Research Centre, UNSW Sydney.
IAL (2020). WDARF Grant Call 2020. Retrieved September 11, 2020, from https://www.ial.edu.sg/access-research/grants-and-schemes/wdarf-grant-call.html
Kahan R (1998). Using database marketing techniques to enhance your one-to-one marketing initiatives. J. Consum. Mark., 15(5): 491-493.
NTU (2020). NTU Class of 2020 (Graduate Certificate & ​​​​MiniMasters™). Retrieved September 11, 2020, from http://pace.ntu.edu.sg/LifelongLearning/class2020_GCM/Pages/index.aspx
VCOSS (2015) Building on the value of Victoria's community sector, VCOSS: Melbourne.
Wang CH (2010). Apply robust segmentation to the service industry using kernel induced fuzzy clustering techniques. Expert Syst. Appl., 37: 8395-8400.
Research Protocols 2020 COPYRIGHT PROTECTED, TRADEMARKED