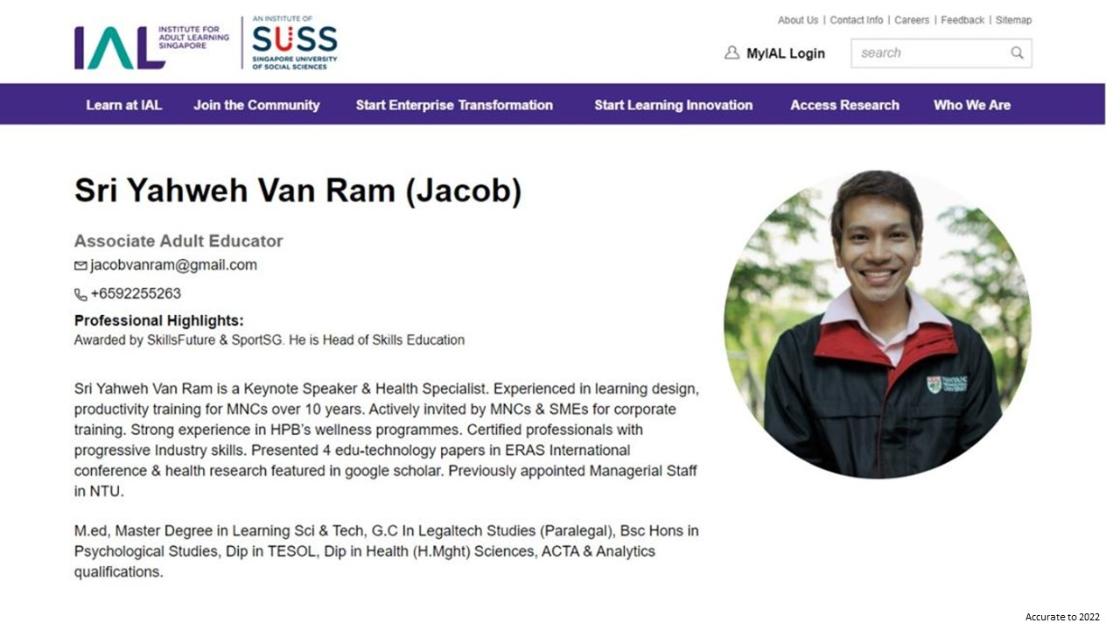 Research Determinants:
Covid19, Australian Social Service Delivery, Leadership, Educational Technology, Learning Sciences, Health Management
Research Highlights Conference Papers Presented at Educational Research Association of Singapore (ERAS) Asia-Pacific Educational Research Association (APERA) International Conference.
In the World Economic Forum 2017, Tharman Shanmugaratnam, Deputy Prime Minister and Coordinating Minister for Economic and Social Policies of Singapore, describes how reshaping education and to reverse the trend of over academisation would be viewed as an importance in the future of Singapore. He considers a flexible blend of academic and practical education that is relevant to opportunities for employment or entrepreneurship in the market. The Singapore's SkillsFuture movement was highlighted in the Forum as seen in a video entitled 'how can leaders ensure technological change is human-centred'. Implementing Information and Communication Technologies (ICT) resources in education is both technical and a learning design process for ICT leaders. The purpose of ICT in education is to transform the traditional practices and increase support for learning (Hew & Brush, 2007). There are several advantages of implementing ICT, according to OECD (2016) "diffusion and use of digital technologies increases, the cost of data collection, storage and processing continues to decline dramatically and computing power increases, governments, business and individuals are increasingly migrating their social and economic activities to the Internet." However, there is little research to support how Adult Education Centres', especially Skills based training may capitalise on this rising trend. Therefore, this paper recommends practices and support for learning to adopt by the Adult Education Centres involved in Singapore National SkillsFuture movement, to empower adult educators with the best practices in which ICT can be implemented in skills based training programmes so that interconnected process such as field knowledge, pedagogy and ICT can be used correctly (Mishra & Koehler, 2006). The methods discussed in this research paper includes; Barriers of Implementation, Meaningful Technology Integration, Technology Adaption Checklist and Activity System to establish ICT Instructional Leadership in Skills Training.

ID del abstract:

NIE77181
Tópico del abstract
Leading Change for the 21st Century
Tipo de abstract
Paper Sessions (1.5 hours)
Author
Sri Yahweh Van Ram
(National Institute of Education / Nanyang Technological University)
*
Associated Sessions
Leading Change For The 21st Century

Research Protocols 2020 COPYRIGHT PROTECTED, TRADEMARKED