SINGAPORE BOOK OF RECORDS
Most Number of People Participating in
MUAY THAI AEROBIC KICKBOXING
led by
MAXIMUM
WELLNESS
SINGAPORE
Together we have made it in the Singapore Book of Records!
On the Eve of National Day (8th August 2011), Health Specialist, Master Trainer Ram, conducted Muay Thai Aerobic Kickboxing Programme at Outram Secondary School.
An estimate of 450 students took part in this record-breaking event that lasted for over an hour.
We have set a new world record for the 'Most Number of People Participating in Muay Thai Aerobic Kickboxing' led by Maximum Wellness Singapore!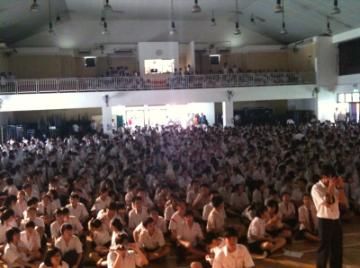 RECENT ACTIVITIES IN 2011/2010
Singapore Book of Records

Aerobic Kickboxing

Boxercise by MW

Gym Orientation Programme

Workplace Health Seminars

Family Active Event

School Health Assembly Talk

Family Day Event

Staff Active DaY

AND SO MUCH MORE!
© Copyright Maximum Wellness 2010. All rights reserved.